Dog is God
Artist Statement
The central quality of this collection of images stems from a two-part observation. First, the contemporary individual swims in the ambiguity of a brutal, hastily-assembled world. Second and in contrast, brief moments of light make existence beyond worthy, so all is not bleak. Still, genuine sentiment is often lost in translation, disease creates anxious energy, love is hard to feel, and most desire what will destroy them in the end. I believe that it is unproductive to focus on this darkness for there is a light hidden from the rational mind that lurks in the body and appears in moments of clarity. The images of this book attempt to bottle this light, as well as the shadows it produces.

The images also catalog, what it is like to be a young man today. With an inconsistent disposition, the photographs interrogate, celebrate, and condemn the difficult and characteristic conventions of machismo, excess, vagrancy, and sexuality within the context of young men in California.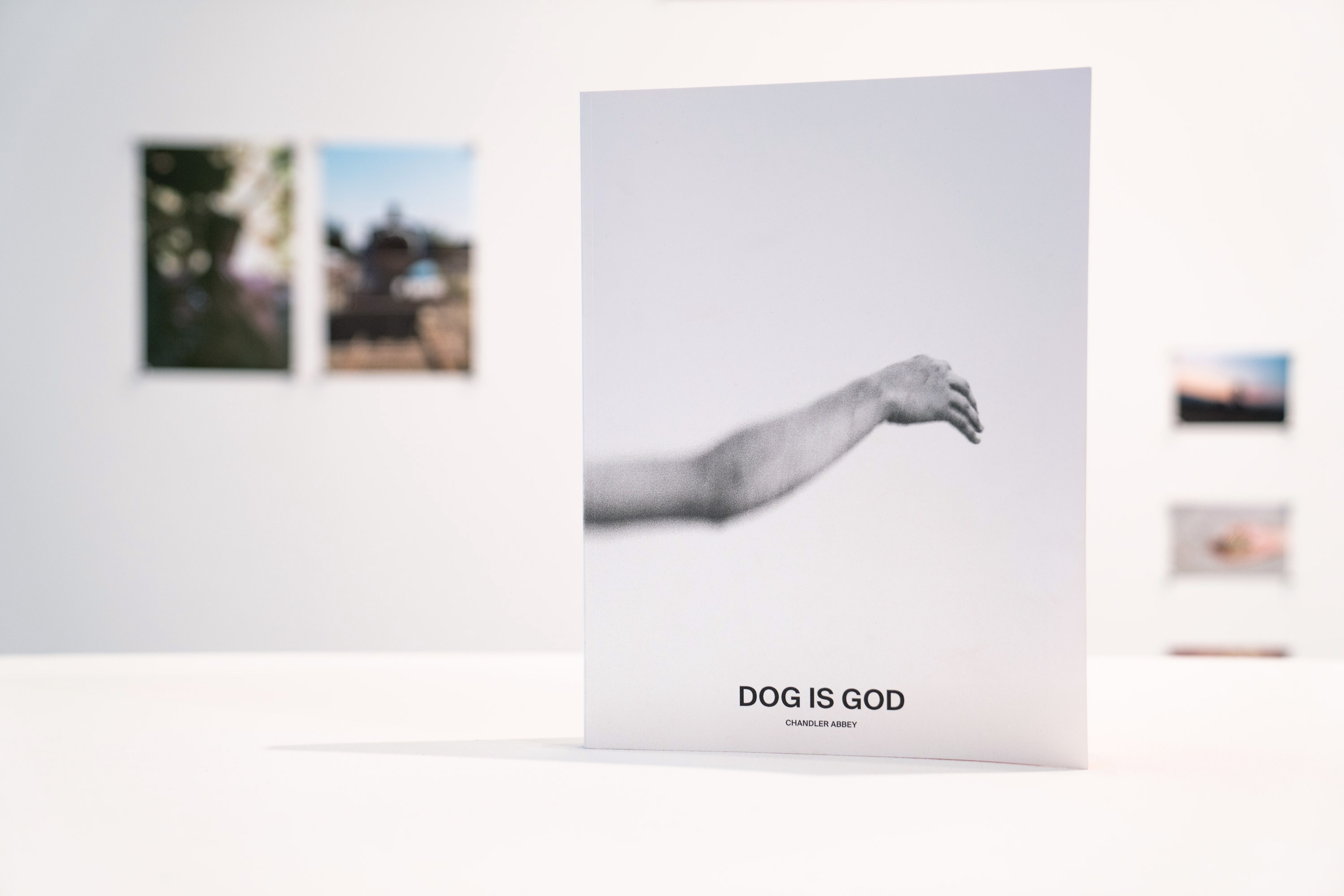 Introduction by Katilyn Perry:
Remember, man, that you are dust and to dust you must return. This is the first truth that must reign in our hearts; dust and ashes, corruption and worms, burial and oblivion. Everything passes away: today we are and tomorrow we are gone; today people miss seeing us, tomorrow we are wiped from their hearts.

— Don Miguel Manara, Discourse on Truth, 1671

In a tone of curiosity that approaches awe, God is Dog memorializes symbols of the solitary, simultaneously interrupting them with movement and the ephemeral. The series is split between Oregon's coast, the Mojave desert, Los Angeles, and other quintessential Californian landscapes. Here a fairly obvious tension exists between the urban and the remote: Los Angeles—a place of chaos and smoke—and its quiet, more contemplative surroundings. "The city's always LA," Chandler Abbey states in reference to the urban spaces in God is Dog; "all the bad stuff happens in the city, and the more peaceful, solid moments seem to generally happen in a beautiful landscape." In God is Dog, the Salton Sea and its bleakness, California's desert scenery, and the rock formations at Joshua Tree National Park are all emphasized to the point of exaltation, serving as reminders of loneliness. Images of the Pacific Ocean and the Kelso Dunes highlight natural grandeur as well as the concomitant suppression and accentuation of what is human. Pictures split evenly between sand and sky dwarf the figures they represent while simultaneously stressing the presence of the individual. One of the book's early images, Silhouette, engages directly with this idea while artfully challenging a notion of the sublime through Abbey's inclusion of two silhouetted figures. This image, with its halved composition and allusions to Genesis, serves as a metonym for larger dualities within the series.


The opening image, Elliot in Scott's Office, is the series's earliest photograph, and it depicts Abbey's younger brother Elliot sitting in his step-grandfather's office in Walla Walla, Washington. Engulfed in a room of 70's wood paneling and stuffed pheasants, Elliot is submerged in a specific kind of masculinity, one that Abbey describes as "an odd sort of northwestern showmanship." The black cowboy hat and glasses, which look somewhat costume-like in the context of this photograph, allude to the performative aspects of masculinity. Elliot also serves as the subject of the subsequent photograph, although instead of taking his place within the office, he emerges shirtless from its dark doorway. In some ways this first pair of images provides an allegory for the rest of the book, in its exploration of the masculine and an interrogation of the self.


God is Dog features 35mm color and black and white film as well as studio portraits shot with a Sony A7R3. The diversity in Abbey's process mimics the paradoxes that exist within his constructed world of movement and stillness, where the semordnilapic phrase "God is Dog" and its implications of inverse only enhance an aspect of self-contradiction. In addition to landscapes, these photographs include intimately cropped portraits and stilllifes which foreground the importance of the individual and the banal. Abbey includes sporadic pairs of black and white portraits that interrupt the desolate locations and often frenzied moments of God is Dog. The men in these studio photographs are somewhat feminized through Abbey's use of glitter and eyeshadow; however, the makeup that collects in their beards and along their jawlines also highlights the features that make them most masculine. By adding a reflectiveness to the subjects's skin, the makeup evokes something extremely physical in its suggestion of sweat and exertion, be it sexual or otherwise. The omission of color and use of tight cropping in these studio portraits works to elevate and immortalize the subjects. In Sean with Hands, the figure appears Christ-like underneath his cosmetic sheen. His closed eyes and soft lips suggest something saintly and pure whereas his shiny skin and the sensuality of the female hands on his face evoke a fundamental lust.


Abbey questions the materiality of images through his post-photographic treatment, most clearly seen in Self Portrait with Coffee, Salt, Water, and Myrrh. In an act of effacement, one that edges on self-rejection, Abbey obscures his own image by pouring coffee, salt, water, and myrrh onto his printed image. This almost violent gesture alludes to his desire to both capture and erase an image of himself; here, the photographer collapses into the role of subject, yet still remains unrecognizable. Abbey achieves similar effects in his other self portraits that incorporate shadows and mirrors.


Abbey seeks to capture something ephemeral through focusing on and interrogating manhood, youth, lust, and the environment, all of which are intimately tied to a uniquely Californian ethic. The world of God is Dog is one in which young men indulge and cleanse, yield and abandon. Cannabis clutters kitchen counters, and apartments are littered with cigarettes, pale bodies, and beer. The grime of partying, the dust of excess and oblivion, leaves its residue across the images, and Abbey's use of blur demonstrates his attempt to capture what is fleeting. In this photobook what is doglike is also holy, and the things we hold sacred often prove destructive and profane.